You're invited! The sun is out. The grill is lit. It's a neighbourhood party and everyone's bringing their favourite homemade food and drinks! What will you bring? If you need a little inspiration, Isautier suggests a fresh, fruity cocktail idea that's easy to put together and makes multiple servings: An Isautier Rum Punch!
As you already know, Isautier rums and tropical island flavours go together like sand and sea. From our range of Arrangés that incorporate the colours and aromas found growing in the fertile fields of Reunion Island, to our White, Old and Gold rums, which all have one common ingredient: the distinct Reunion Island sugar cane.
 
Thus, we present you with a punch recipe that highlights the natural pairing 

that is Isautier Rum and tropical fruits. Guava, pineapple limes, and of course, sugar cane, give this recipe its sweet, fruity, exotic island flavours that correspond so well with Isautier Rums.

The unique profiles of Isautier White Rums make them the ideal base for our other aged and flavoured Isautier rum products, as well as for a wide variety of cocktail recipes. 
Our Gold Rums are aged in oak barrels, giving them spicy, complex notes which add character to the tasting experience, whether you're tasting them on their own or in your favourite cocktail.
 
For this particular recipe, we recommend two of our preferred products for blending with cocktails. The notes of candied fruits, patisserie, almonds and vanilla in our Isautier White Agricultural Rum 55% , along with the fruity, floral aromas and sweet hints of cane sugar in our Isautier Secret du Canne Gold Rum harmonise melodiously with the sweet and citrus flavours of the fruit juices in this mixture. The bolder side of this pairing exists at the intersection of the intense, spicy notes in both rums, the addition of bitters, and the warm, earthy flavours that come from sprinkling in of a variety of spices.

So without further ado, here's a cocktail that will make neighbourhood gatherings easier. All you have to do is fill the punch bowl, and guests can serve themselves. There are as many varieties of Planter Punch as there are people who make it, but here's our recipe, made from fruits that grow on the Island: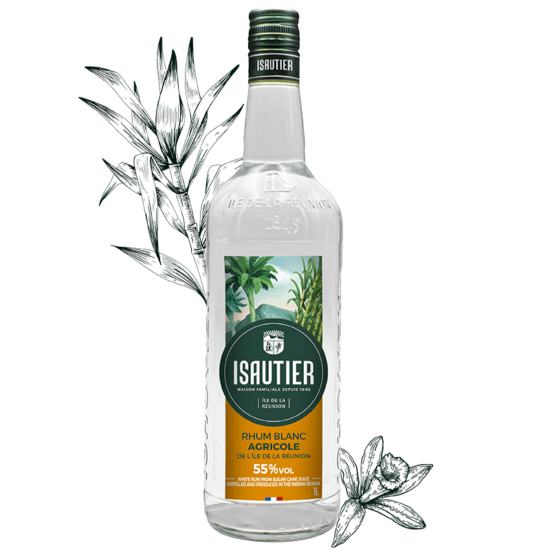 See the product
Ingrédients
1 litre Isautier White Agricultural Rum 55%
½ litre Isautier Secret du Canne Gold Rum
2 litres guava juice
2 litres pineapple juice
The juice of 4 limes
25 cl of cane sugar syrup
Your choice of spices: vanilla, cinnamon, nutmeg, clove, cardamom, anise…
10 dashes of bitters
Préparation
Make the syrup. Add 50cl of water, 500g of cane sugar and your preferred spices to a saucepan. Heat until the sugar is completely dissolved, then cover and allow to cool.
Finally, add 25cl of your cane sugar syrup plus all other ingredients into a punch bowl. 
Add ice to keep it cold and serve chilled.
This recipe serves 20 to 25 people.
Allow us to offer one last suggestion for this fruity cocktail: Bring two bowls and make a second batch without the alcohol so that everyone at the party can enjoy it! We want to know what you and your neighbours think about this tropical drink recipe! Visit us on Facebook and Instagram and share your tasting notes in the comments!
 
DRINK ISAUTIER RESPONSIBLY.