There's no debate, the Piña Colada is a permanent resident on the menu at most cocktail bars. The combination of rum, coconut, cream and pineapple juice is tried and true. The result is a smooth and balanced cocktail that is often associated with the summer season. 
Do you know what else is an undeniably summer flavour? Sun-kissed exotic fruits! If you're like us and you enjoy matching your aperitif with the season, then allow us to suggest a cocktail that features our Arrangé Lychee Passion Fruit. The aromas of these two fruits, ripened to perfection by the Reunion sun, go together wonderfully and create the foundation for this Piña Colada inspired cocktail. The Piña Péi could very well replace the original recipe! Here, the Arrangé Lychee Passion Fruit blends with coconut cream and almond milk for a concoction that's simultaneously creamy yet not too heavy. Finally, it's all brought together and enhanced by passion fruit nectar and vanilla liqueur.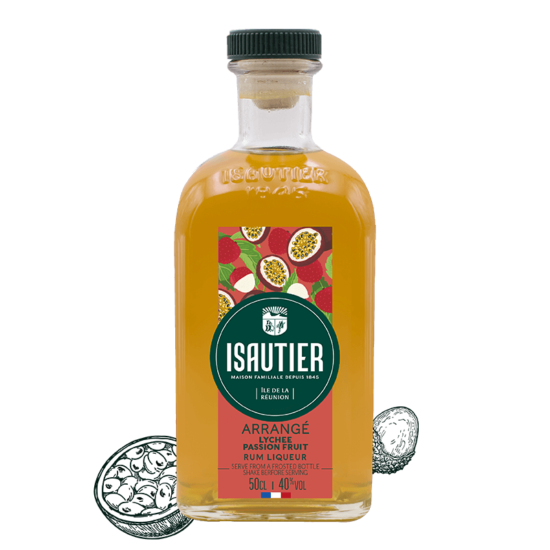 See the product
Ingrédients
4 cl Arrangé Lychee Passion Fruit
1 cl vanilla liqueur
10 cl passion fruit nectar
6 cl almond milk
2 cl coconut cream
Préparation
Pour all ingredients into a shaker filled with ice cubes.
Shake vigorously for approximately 10 seconds until smooth.
Strain into an old fashioned glass filled with a few ice cubes.
Garnish with ingredients inspired by the season: dried fruits, skewered lychees or a halved passion fruit. 
We're waiting for you on Facebook and Instagram to tell us what you think about the Piña Pêi, our Reunion Island version of the traditional Piña Colada!

DRINK ISAUTIER RESPONSIBLY.